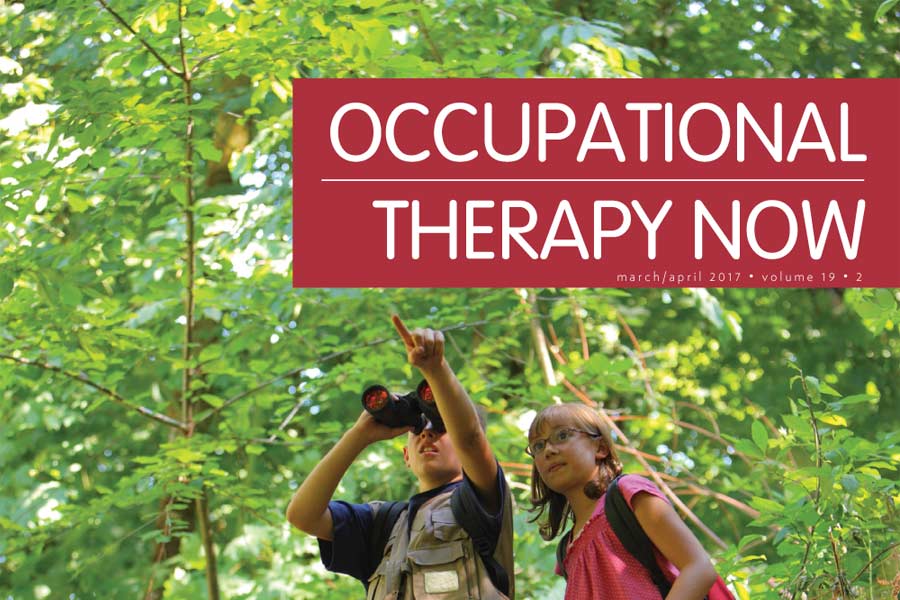 12 Apr

PiOT Featured in OT NOW – March/April 2017 Edition

PiOT was featured in OT NOW,  in an article on page 17,  that outlines a new model of Student Placement in Private Practice.

This article is a recognition by The University of Toronto for the unique methods we used to prepare a student to become a clinitian to work in the Auto Sector after completing her final placement with PiOT.

Source Link: http://caot.in1touch.org/site/pd/OTNow
---
OTNow Magazine – March / April 2017 – Volume 19-2
From volunteer and student occupational therapist to new occupational therapist in private practice
Hardeep Singh, Arvinder Gaya, Lisa Martin and Donna Barker
---
Introduction
According to the Canadian Institute for Health Information (CIHI), 2592 occupational therapists or 24% of practicing occupational therapists in Canada* work in the private sector (CIHI, 2014). Increased fieldwork opportunities within the private practice sector are required to enable student occupational therapists to develop necessary practice competencies, as Canadian university occupational therapy programs strive to provide effective education applicable to all occupational therapy practice contexts.
Private practitioners/companies can benefit from fieldwork teaching because it can enhance relationships with university occupational therapy programs and thus access to clinical resources and expertise. Students can bring new ideas, theories and research, which can stimulate preceptors' reflective practice and sharpen clinical reasoning skills, creating the possibility of improved client outcomes (Drynan & the Canadian University Fieldwork Educators subcommittee, 2013).
However, recent research has identified several factors that challenge occupational therapists in private practice within Ontario in the provision of fieldwork placements (Barker, Stack, Miller, MacEwen, & Rappolt, 2014). These factors include caseload fluctuations, lack of physical space/resources to accommodate students, concerns that students are not sufficiently prepared, costs/loss of revenue associated with student supervision, liability concerns, preceptors' uncertainty around criteria for clinical teaching and supervision, concerns about client satisfaction and quality of care with student involvement, and the possibility of students being involved in legal cases (Barker et al., 2014).
These challenges call for creative solutions and require university programs to consider fieldwork models beyond the traditional model that typically involves a block placement at one fieldwork site with one or two preceptors. A potential and promising fieldwork model was created by Donna Barker and former student occupational therapist Hardeep Singh, along with the two other authors (Arvinder Gaya and Lisa Martin), within a private practice company (Personal Injury Occupational Therapy [PiOT]). This model incorporates extended student volunteer work with a private company prior to a final fieldwork placement. Their story is outlined below from Hardeep's student perspective interspersed with comments from her preceptors, Arvinder and Lisa.
Hardeep's journey
When I started occupational therapy school, I was determined to gain experience beyond the program's expectations in order to increase my employability in the competitive job market. During the first term, I learned about occupational therapy in private practice. Initially, the flexibility and independence available in this work environment sparked my interest. As my knowledge about this setting expanded, I became aware that years of experience are often required to be considered by private practice employers. I felt determined to develop the knowledge and skills required to gain employment in private practice. PiOT was a medicolegal occupational therapy company that I contacted to discuss volunteering with in order to gain additional practical experience above and beyond the requirements of my occupational therapy program. During the initial meeting with Arvinder, the company director, I explained my rationale for seeking a volunteer position in the company and we collaboratively created my role within the company to work on various projects.
Arvinder and Lisa: Once we became familiar with Hardeep's work ethic and saw her potential to be a fit for private practice and this company, we decided to invest in training her.
PiOT is an occupational therapy company with 13 occupational therapists. The company's monthly meetings provided me with the opportunity to network with therapists and identify new projects with which I could assist. These included translating assessment/treatment tools into Punjabi, working with electronic management resources, creating educational handouts, researching digital tools for clients with memory impairments, researching changes in medicolegal regulations and providing administrative support to occupational therapists. This experience allowed the company to become familiar with my strengths and for me to demonstrate the value I could bring to the company if they invested in my training during a fieldwork placement.
Arvinder and Lisa: A strong personal interest in private practice and willingness to learn, such as we saw in Hardeep, are key factors to being successful in private practice.
In my final year, I proposed a plan to my university fieldwork coordinator to have my last fieldwork experience at PiOT, which had not previously been a fieldwork partner with the university. Discussions began between PiOT and the university, and eventually all necessary paperwork was completed. Although PiOT specifically wanted me to have the placement, the university fieldwork coordinator made this placement offer available to all students to gauge interest in this learning opportunity. I was able to secure the placement due to the preferences of PiOT and my own ranking of available fieldwork opportunities.
Arvinder and Lisa: A placement offered within our private practice is best suited to fit the skills of a student in his or her final fieldwork placement who has some prior exposure to private practice documentation and legislation. At this stage, students are more confident in their role, learn at a faster pace and are better equipped with the necessary skills to deal with the unique challenges presented by the motor vehicle insurance sector.
Due to the fluctuating nature of caseloads and inconsistent scheduling, I was assigned to three fieldwork preceptors but also had opportunities to shadow other occupational therapists in the company. I was responsible for organizing my own weekly placement schedule and communicating with therapists around which occupational therapists I would be shadowing in a given week. I began by observing my preceptors during sessions with their clients and doing indirect services. As I became more comfortable, I began creating and implementing treatment plans with the supervision of my preceptors. By the end of my placement, I was independently conducting treatment sessions with clients. During my eightweek fieldwork experience in this private setting, I encountered many challenges, but I still believe that the rewards of working in the private sector outweigh the challenges. At the end of my placement, I was offered a job by PiOT!
Arvinder: Hardeep's volunteer experience prior to fieldwork was very valuable for the company, as this extended period allowed me to really get to know her. It was clear to me well before the placement that she was a good fit for PiOT. Knowing this, the placement became an opportunity to train her to work for us when she graduated.
---
Student-initiated volunteer/fieldwork combination model for private practice
The student-initiated volunteer/fieldwork combination model for private practice (Figure 1) comprises six stages that would take place during a student's training. The following provides a guide for the use of this model.


Stage 1. Student contacts a private practice company with which to volunteer
This stage is entered once the student identifies a company that matches his or her areas of interest based on future career aspirations. Volunteering prior to the fieldwork placement provides the student with time to learn skills and gain exposure to the legislation and business practices related to medicolegal practice and its broad scope. Time spent volunteering also gives the company an opportunity to get to know the student and his or her suitability for the learning experience prior to making the commitment of taking the student on for fieldwork. After choosing a company, the student would then contact the university fieldwork coordinator to discuss their interest in contacting the private practice about the possibility of doing volunteer work. The student would contact the company only after obtaining approval from the university fieldwork coordinator.
Arvinder and Lisa: This stage allowed our company to learn about Hardeep's interests and determine what the company could offer her and how she could contribute to development in the company.
Stage 2. Student volunteers at the company during the occupational therapy program
This stage involves formulating a volunteer agreement with the company outlining clear expectations, including specific hours and the length of time that the student would volunteer. In this stage, the student would gain hands-on experience and build a skillset within a specific area of practice. Prior to beginning private placement, it is important for the student to become familiar with the medicolegal sector as well as legislation and services offered by the company.
Arvinder and Lisa: The student should be encouraged to learn about the legislation that influences private practice and become familiar with necessary forms and the procedures of the company. Since the student will then be familiar with the practice environment and medicolegal legislation, the company's concerns about the student's involvement in the private practice setting should decrease.
Stage 3. Student discusses the fieldwork learning opportunity with the company
Once the student and the company have determined that they are a good fit for each other, the student would notify the university of his or her intent to discuss available fieldwork learning opportunities with the company.
Arvinder and Lisa: The company should determine which therapists will be preceptors to the student during this placement. This stage allows the company and student to discuss details of the fieldwork placement, such as expectations and feedback methods.
Stage 4. Student connects the company and the university
This stage involves the student connecting the company
director with the university's fieldwork coordinator.
Arvinder and Lisa: The company will connect with the university to discuss the learning experience and expectations from students and preceptors for the placement.
Stage 5. The university and the company discuss fieldwork goals and complete necessary paperwork
This stage involves the completion of required documentation to arrange for a fieldwork placement. The company should ensure it has clarified compensation for preceptors. Due to fluctuations in caseloads, assigning more than one preceptor to a student may be beneficial. Companies should be prepared to provide adequate learning materials such as sample reports, forms, assessments and more. Discussions about expectations of the fieldwork student and requirements of the preceptors are necessary in this stage.
Arvinder and Lisa: The company should review the expectations of the university and the student to ensure student and company goals can be met during the relatively brief placement timeframe. To prepare preceptors for their role, the university will provide the company with teaching resources, a course outline, any required documentation and evaluation methods for the placement.
Stage 6. Student completes final placement at the company
The final stage involves the student completing his or her final fieldwork placement at the company. In this stage, the student has an opportunity to gain independence and build his or her skillset in a familiar environment. The company has an opportunity to train the student to potentially become a new employee as an independent private practice occupational therapist.
Arvinder and Lisa: This placement allowed us to tailor Hardeep's training within the context of the fieldwork placement, based on the areas where we felt she required more opportunities to develop her skills.
Conclusion
Universities, private practice companies and students need to be creative to prepare students for unique work environments in the private sector and move our profession forward. Fieldwork within private practice provides benefits to the preceptors, such as screening of potential future employees, and benefits to the students, such as the development of competencies and experience in this growing sector. The University of Toronto will be open to the use of the studentinitiated volunteer/fieldwork combination model for private practice outlined in this article and any other models that satisfy university fieldwork requirements while addressing student and preceptor/practitioner needs within the private sector.
---
*CIHI statistics do not include Quebec. Number includes CIHI funding categories of "Private sector or individual clients," "Public/private mix" and "Other."
---
References
Barker, D., Stack, R., Miller, C., MacEwen, H., & Rappolt, S. (2014). Enhancing
fieldwork opportunities within private practice settings. Occupational
Therapy Now, 16(6), 20-22.
Canadian Institute for Health Information. (2014). Occupational therapists
in Canada. Retrieved from https://secure.cihi.ca/estore/productSeries.
htm?pc=PCC375
Drynan, D. & the Canadian University Fieldwork Educators (CUFE)
Subcommittee. (2013). 10 + 1 reasons for you to make students an offer
they can't refuse! Occupational Therapy Now, 15(1), 8-9.
---
About the authors
Hardeep Singh, MScOT, OT Reg. (Ont.), is currently working at Personal Injury Occupational Therapy (PiOT) and completing her PhD at the University of Toronto.
Arvinder Gaya, BScOT, OT Reg. (Ont.), is the founder of PiOT and has over 20 years of clinical experience.
Lisa Martin, MScOT, OT Reg. (Ont.), is an occupational therapist at PiOT and has 11 years of clinical experience.
Donna Barker, BScOT, MSc, OT Reg. (Ont.), is the director of clinical education and an associate professor in the teaching stream at the University of Toronto in the Department of Occupational Science and Occupational Therapy.
For any questions or comments about this article, please contact: hardeepk.singh@mail.utoronto.ca
---